Welcome!
Welcome to the New Hampshire Track Officials Association (NHTOA) Website
This site is the primary resource for NHTOA officials. Membership in the NHTOA is open to anyone over the age of 18 who is no longer a high school student and is interested in officiating high school Track & Field and Cross Country in the State of New Hampshire.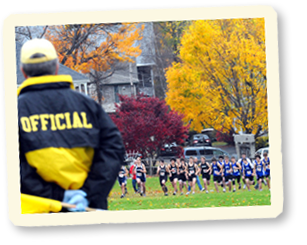 Interested in Becoming An Official?
For more information on joining the NHTOA, click on the 'Join the NHTOA' link under the 'About Us' tab at the top of this page.
Did You Know?
Outdoor track and field is the second-most popular sport for boys, with 580,321 participants, and most popular sport for girls, with 478,885 participants, at the high school level, according to the 2013-14 NFHS Athletics Participation Survey. The sport ranks second in school sponsorship with 16,271 schools sponsoring the sport for boys and 16,217 sponsoring the sport for girls.
Cross country is the seventh-most popular sport among boys and the seventh-most popular among girls in high school. During the 2013-14 season, a total of 252,547 boys and 218,121 girls participated in the sport. School sponsored teams included 14,473 boys and 14,267 girls teams.
Source: 2015 NFHS